Girlfriends Are Like Shoes – will always cherish the good ones
That has been my title and tag line since the beginning (2010) and I am pretty pleased with my choice.
I've had many blog designs over the course of this blog but always wanted to stick with that title and tagline.
I've been getting more serious about branding though and am liking my more simplistic design that I'm using now. What do you think?
Here are some of my past headers n' things…


I still use the bottom logo from time to time.
My more current choice is this: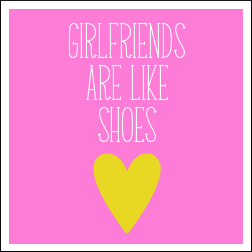 Simple & feminine.
So I've been thinking I'd like to finally get a business card/ networking card made so when I am asked or want to tell someone about my sites I'll have a handy way of doing so.
Here's what I'm thinking…
Suggestions or comments? I'd love some feedback.
I absolutely love pink, hence the logo color and feel like this suits me well.
The fonts and colors match my actual site as well.
Do you currently have a business or networking card for your blog?
To see more blog networking cards you can visit my other site here.