Make Extra Money Online Free For Anyone
If You Can Follow Simple Directions, Here's How To make extra money online free In Your Spare Time – And Have Fun Doing It!
Making some extra money online isn't as hard as you might think.
There are many ways to make a few extra bucks online such as; affiliate marketing, ad sense, freelancing, surveys, etc. Some people are quite successful and others struggle without making a cent.
Let me tell you what has worked for me. Hubpages 
First, I'll tell you that I made my first $50 without really doing anything, what I mean is that I had forgotten about this site until a notice showed up in my email that I was paid!. This has obviously inspired me to actually put some effort into it and make some more money.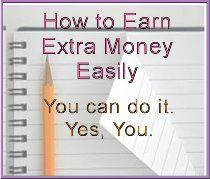 I signed up approx. 2 years ago and wrote 6 hubs. (A hub is a piece you've written; a tutorial, article, story etc.) I then sort of forgot about the site and only went to it once every few months or so until a few months ago I was paid $50 in ad sense earnings. I was so freakin' excited!
Since then I have added another 3 hubs and in 2 months was paid another $50. The more I add and visit the site the more I'll make. There are people on there who make massive amounts of money but they put a lot of time and effort into it. It depends on what you want to do. I am casual with it and make enough to buy a new pair of shoes every couple months, not bad! (I'm continuously making more)
It's a very friendly bunch of people who are willing to help out anyone and the list of tutorials and resources are endless. There's no reason why you can't do it.
So, I'm not making millions or even a boat load of cash but I am making extra money online and on a casual basis. I plan to put more into it and raise my income some more but I wanted to share with you that it is possible to make extra money online free by just enjoying the site and contributing as much as you're comfortable with or have time to do.
It took me some time to figure this out but now that I know, this is the site I will continue to utilize as my extra income source. Can't get enough shoe money! hehe.
Check it out and keep us posted on how you make out. What are you waiting for?! Go make extra money online free now. Leave us your link in the comments for us to follow your hubs!
Here are some links to check out and see for yourself:
HubPages Review — How I'm Making Money With HubPages
How To Make More Money From Hubpages
3 Unusual Ways to Make Money at HubPages
How to Make Money with HubPages Ad Program – Quick & Easy!
Have fun!
For another money making opportunity see here