Today is my birthday. I've also been wanting a pair of black wedges for quite a while now. I browsed and browsed and finally found these! (see below) I just ordered them from Yesstyle.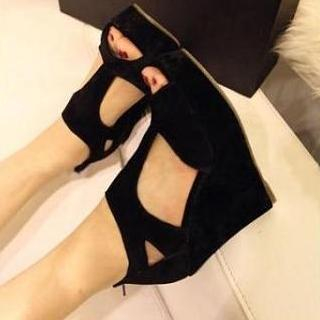 Yesstyle is Asian fashion from all kinds of designers and excellent prices! There is a canadian website to shop from also (which is where I ordered from). I think that is superb because I loooove the site but not the hefty shipping charges that would come with shopping directly from Asia.
My shipping was 9.99 but my wedges were cheap so my whole order is still less than 40 bucks!
I signed up as an affiliate so if you shop there I will get a small percentage of the sale. Check it out, they've got some of †the cutest shoes I've ever seen!!!
I will be ordering more but I have trouble with deciding on which ones to get, I wish I could get them all.
Here are a few of my favorites, I'm a huge fan of wedges.
I had the last pair of pink ones in my shopping cart but at the last minute decided to wait until later. I do have a colored pair of wedges on my to get list and I'm pretty sure pink will be the winner! †I love the first pair of pink too though, decisions, decisions lol.